A note from your Professional Hunter...

I am Collin Saunderson, a Professional Hunter from South Africa.
My life is to conduct safaris in Zambia, Namibia and South Africa. I offer you a total of 50 species of game, including Kudu, Buffalo, Leopard, wild pigs, many species of antelope and various other game. The area where I conduct my Safaris is wild open country, there are no game fences to hold the game, and there are numerous trophy animals to choose from.
Two of our antelope, the Kudu and Vaal Rhebuck, are as challenging to hunt as Whitetail deer. The Kudu, better known as the "Grey Ghost", is one of the most challenging and magnificent trophies a game hunter can obtain. The Vaal Rhebuck (pictured above) is extremely alert and graze in the most open areas, with no cover for a hunter. Nobody has ever managed to take the wily Vaal Rhebuck with a bow, which shows how remarkable a trophy it actually is.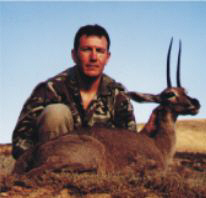 Myself with a wily Vaal Rhebuck
- a remarkable trophy !
As a Professional Hunter I believe strongly in the ethics of hunting. I do not believe in having game chased to a hunter, I do not allow hunting from vehicles or hunting at night with a spotlight. I also do not allow rifle hunters to hunt at waterholes. Hunting with me must be real hunting. I have many years of experience of hunting, bushcraft and tracking.
I will take you on a Safari where you will not only experience the ultimate hunt, but also the African bush, African hospitality and perfect sunsets every day.
If you are interested in experiencing the real African Safari, or offering it to your clients, there is no better place to go. Life will never be the same again!!
Best regards
Collin